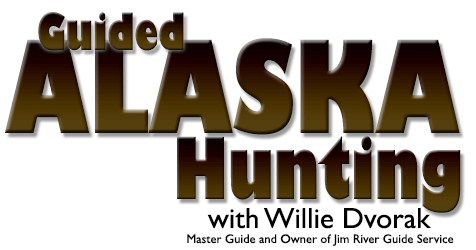 Guided Alaska Hunting
Alaska offers great hunting adventures for people who are looking to experience the last Great Frontier. Jim River Guide Service will put you in remote hunting areas accessible only by bush plane. This is the best way to find the excellent trophies and the most animals. I take a very small number of clients. This means I only have to find a very small number of excellent trophies each year. It also means you will be part of a very small number of clients that will trust me to arrange their Alaska hunt. I take pride in providing each hunter the best personal attention.
Unless other arrangements are made, I will be your guide. In a perfect world, an employee would care about the business as much as the owner. Unfortunately, we don't live in a perfect world. I do all of my own guiding unless other arrangements are made. It is comforting for you to know that the guy who is cashing your check (me) is the same guy who will accompany you in the field (me). I put my reputation on the line every time I cash a check.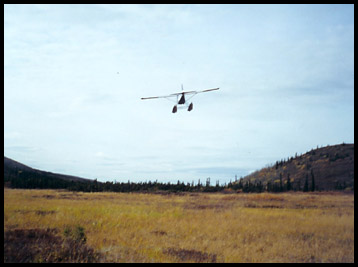 We specialize in spike camp hunts. These hunts have advantages over base camp or river camp hunts. The first advantage is I put you down where the game is. You get to camp very near where the game is. In most instances, we can see game right from our tents. Many hours of preseason scouting help me determine where I will put you. This greatly increases your chances of success. If we want to move after hunting an area for a few days, we can do so. Moving is seldom needed but it should be comforting to know that I can make it happen. My main goal is to give you chances at beautiful trophies.
You will need to get to Anchorage. Recommendations of hotels, restaurants and entertainment choices in Anchorage will be provided after receipt of your deposit. I would also recommend you take an extra day or two on both ends of your trip to see Anchorage and take care of any final details. The hotel can take you to the airport in preparation for your flight to camp.
You will be flown out to the spike camp in a Piper Super Cub. This is a very small, very versatile, very safe plane. With the right pilot, the Super Cub can get you into great areas to hunt that are very remote. Once in the spike camp I try to set up the tents in an area protected well from the winds that can sometimes blow very hard here in Alaska. Usually we will be able to glass right from camp. This means we start hunting as soon as we open our tents in the morning and can be glassing vast hillsides, mountains, and drainages while we drink our morning coffee or tea. When you are spending a large amount of money on a hunting trip, you should go with somebody who will allow you as much hunting time as possible. I believe we offer the best bang for your buck.
I operate my hunting camps as a professional. As a Master Guide, I am aware of and understand the hunting regulations set up by the state of Alaska and the Alaska Board of Game. You can trust me to follow the regulations to the letter. Please don't ask me to violate any of the regulations. I feel if an outfitter is willing to cheat the state of Alaska by committing game violations, he would not hesitate to cheat a client. You can feel comforted knowing that my business is done "above board".
Due to weight and space restrictions on bush planes, hunters are limited to 60 pounds of personal gear including your rifle on the Super Cub flights. The gear list I have provided below will easily meet the weight restrictions. To travel in the bush planes, pack your gear in midsized, waterproof duffel bags. Large or oversized bags simply will not fit in the plane.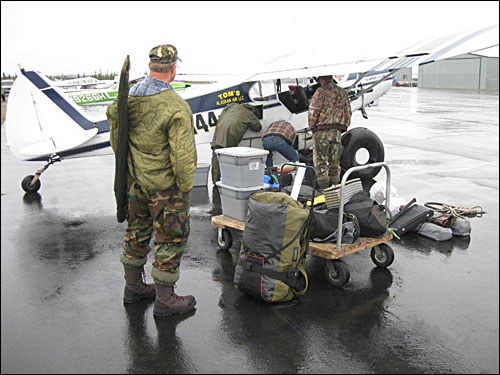 Hunters loading up
You should bring a soft-sided backpack as your day pack. It should be able to hold your personal items for a day of hunting like meat bags, lunch, canteen, cameras, extra dry socks, etc. To help you meet the new major airline size and weight restrictions, I provide pack frames once you arrive in camp. Your soft-sided backpack will hang securely on the pack frame and still allow the pack frames to be used to haul meat and trophies in the field. A padded, waterproof gun case is recommended for bush plane travel. Absolutely no hard cases may be used.
If you want to bring gear in addition to that on the list, it may benefit you to visit with me about it prior to leaving home. I may be able to save you excess baggage costs and time sorting your gear at the bush plane take off point and transition points. If you want extra baggage delivered to the camp site, you will need to pay for an additional flight.
All of the food will be provided. I provide an assortment of healthy and high energy foods to keep you going strong for the duration of your hunt. If you have special dietary needs, please let me know at least 30 days prior to your hunt and I will see that you have plenty to eat. A camp runs on its stomach. My cook does an excellent job. When tipping the guide, don't forget to show a little appreciation to the cook/camp assistant.
If needed, I filter the drinking water using Guardia proof filters. Anyone who has experienced "beaver fever" will attest to the importance of this safety precaution. I take all reasonable steps to provide you a safe and successful trip. All of my gear is modern and in excellent working order. I personally test all of my camp gear prior to the hunt to assure it is in working order when you arrive to hunt. This maximizes comfort and minimizes lost hunting time due to equipment failure.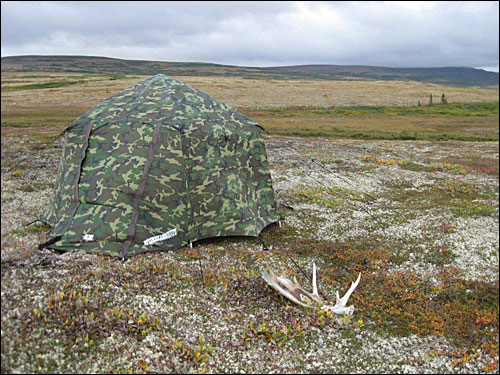 Remote camp
Alaska hunting conditions will stress and test all gear during use. All of my gear is the gear that I feel performs the best in the wide array of conditions that we experience while hunting. I think you will appreciate that I personally test/check my gear prior to your hunt. I expect you to do the same. I also expect you to come to camp with gear that is able to withstand Alaska hunting conditions. Common failures of past clients are poor quality optics and hiking boots that are not broken in.
The bush plane pilots are experienced here in Alaska. Weather here can change hunting plans on any hunt. I have taken steps with my logistics to minimize lost hunting time due to weather. It must be understood, however, that weather can still keep us down and I cannot be held responsible for bad weather. Be confident that if it is safe to fly, the pilots will be flying. Jim River Guide Service believes in "Safety First". I recommend you purchase traveler's insurance to cover lost delays due to unforeseen problems. The tragedy of 9-11 cost a lot of sportsmen hunting time.
Spike camps, by definition, are lean hunting camps. For safety purposes, it is important to adhere to the personal gear weight limits. I bring in selected gear such as cots to help with your comfort and overall enjoyment of the hunt. I also have satellite phones in camp for all of our safety on guided hunts. You need to do your part and arrive in camp with adequate mental and physical preparations for your hunt. Your success can depend greatly on your mental and physical readiness. You should also spend plenty of time practicing with your hunting weapon so you can make the shot when the time comes. Nearly everyone thinks they will never miss an easy shot but I have seen it too many times to not mention it here. Keep in mind that you may need to make the shot while you are out of breath, getting rained on, leaning into the wind, and looking at a trophy of a lifetime to boot. Practice. Practice. Practice. You are going to have a great time!
Guided Hunt Pricing
A 50% non-refundable deposit will reserve your hunt.




Brown Bear Hunt ... $30,500




Moose Hunt ... $32,500
Hunting in Alaska requires lots and lots of glassing. Make sure you bring excellent waterproof binoculars of at least 8 power with objective lenses no less than 40 mm. 10x50 are an even better choice. This will allow you to make a huge contribution hunting and be comfortable on your eyes at the same time. Spotting scopes are allowed but they are no substitute for quality binoculars.
Any legal weapon in Alaska is permitted on the hunt. The recommended minimum caliber is a 30-06 with a 300 win Mag a better choice. I would much rather see you arrive in camp with a .300 Mag that you can shoot well rather than a larger caliber that you are unfamiliar with. You should bring 20-30 rounds of high quality bullets for your weapon. There are many choices including Sledgehammer, Trophy Bonded Bear Claws, Barnes X, A-Square, etc. You should practice a lot with whatever bullet/combination you intend to bring on the hunt. A brown bear can scratch and bite. It should be your goal to put him down quickly and humanely.
I will make arrangements for your meat to be taken back to town in Anchorage. I can recommend processors and expediters that will take care of preparing/shipping your meat and trophies back home. I can also recommend my taxidermist if you don't have one in mind. Some hunters wish to donate their meat. If you would like to donate yours, let me know and I will take care of it for you.
Personal Gear List:
Gun/ammo
Rain suit
Waders
Medications
Spare glasses
Cash
Mole skin
Headnet
GPS
Waterproof gloves
Flashlight/batteries
Whistle
Sleeping bag
Binoculars
Backpack
Hat
Leatherman tool
Headlamp
Underwear (7)
Socks (7)
Shirts (2)
Pants (2)
T-shirts (3)
Bug dope
Long underwear
Wool gloves
Camp shoes
Boots
Canteen
Gun sock
Camera
Coat
A 50% non-refundable deposit reserves your spot when you book. To be fair to everyone, I operate on a first-come-first-serve basis. Your reservation is secured when I receive your first payment. The balance is due 60 days prior to the start of your hunt. A charter flight will be required to get into camp. A flat rate of $1,500 round trip/hunter covers the flight from Anchorage into Iliamna and the Super Cub flight into camp and your return back to Anchorage. It also covers the cost of meat/trophies returning to Anchorage. Again, I recommend that you purchase traveler's insurance to cover your non-refundable deposit should a personal injury, family emergency, Act of God, or other event prevent you from participating in the hunt.
If you are hunting on a hunt that includes trophy fees, please bring enough cash/traveler's checks to settle up if you are successful.
When researching a hunt, you should ask to speak with ALL of the clients who hunted the same time you are considering hunting the previous year. It is foolish to consider booking a hunt with an outfitter before you speak with hunters who have hunted the same time and place during the previous season. It is important to know ahead of time what you are getting for your money. I am proud of the attention I give each client before, during, and after the hunt. Most importantly, DON'T CONSIDER BOOKING A HUNT WITH ANYONE THAT IS NOT WILLING TO GIVE YOU PHONE NUMBERS AND/OR EMAIL ADDRESSES OF ALL OF THEIR CLIENTS FROM THE PREVIOUS YEAR.
If you would like to reserve more hunting days than the hunt allows, let me know at booking time. I will gladly make the arrangements to accommodate you and discuss the price for the extra days. Adding days at the last minute will not be possible except on very rare occasions.