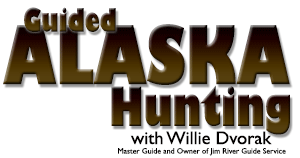 Alaska Moose Hunting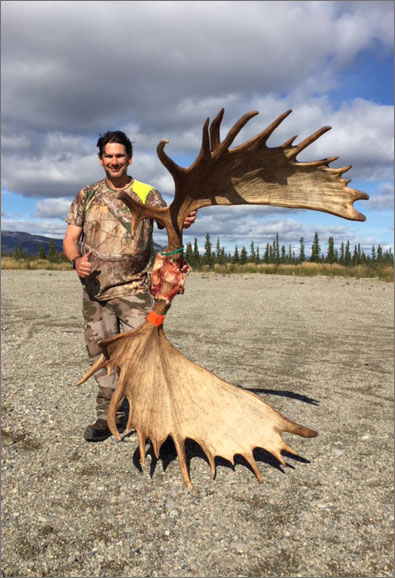 Guided moose hunting in Alaska can be a thrill of a lifetime. The hunts take place in September during the start of the rut. Calling a big bull into range is one of the most amazing things you will ever see. It is also one of the most exciting ways of hunting them. The Alaskan moose is the biggest of all moose. Great mass and wide spreads make an awe inspiring site on any trophy room wall.
Moose have to be 50 inches wide or support 4 brow tines in this area to be legal. This helps insure trophy animals for next season and insures that any animal that is legal is a real trophy. It should be said that many hunters feel a moose is a "gimme" animal. This is not the case. Nor is it the case that a bull needs to be 60 inches wide to be a great trophy. The media has promoted this idea to the extent that they have taken something away from the sport of moose hunting. The first bull I ever killed was a young bull standing at 18 yards that I took with a bow on the first day of my first trip. The second bull I killed was a beautiful 56 inch bull that I shot with a .300 Win Mag at less than 100 yards on the second day of my second trip. Not all hunts are that easy. Be assured, a legal bull is a huge animal and to fill your moose tag in the wilds of Alaska will be a feat you will remember for the rest of your life.
I recommend a minimum caliber of 30-06 for moose. The shots on moose are typically less than 100 yards. When you are planning a trip like this, it makes a lot of sense to be well practiced at further distances also. A 30-06 is a great weapon for any of the animals you may include on this hunt on a trophy fee basis. Trophy fee options will be applicable only if the Alaska State Game Regulations have open seasons for the species.
Unless other arrangements are made, I will be your guide. In a perfect world, an employee would care about the business as much as the owner. Unfortunately, we don't live in a perfect world. I do all of my own guiding unless other arrangements are made. It is comforting for you to know that the guy who is cashing your check (me) is the same guy who will accompany you in the field (me). I put my reputation on the line every time I cash a check.

When researching a hunt, you should ask to speak with ALL of the clients who hunted the same time you are considering hunting the previous year. It is foolish to consider booking a hunt with an outfitter before you speak with hunters who have hunted the same time and place during the previous season. It is important to know ahead of time what you are getting for your money. I am proud of the attention I give each client before, during, and after the hunt. Most importantly, DON'T CONSIDER BOOKING A HUNT WITH ANYONE THAT IS NOT WILLING TO GIVE YOU PHONE NUMBERS AND/OR EMAIL ADDRESSES OF ALL OF THEIR CLIENTS FROM THE PREVIOUS YEAR.
Contact me to discuss an Alaskan moose hunt by emailing me or phone at 605-887-3561. If I don't answer, I am probably hunting. Leave a message and I will return it ASAP.
The package price of this hunt and a list of other species available on a trophy fee basis follow:
| | |
| --- | --- |
| Moose hunt | 1x1 ... $29,500 |
| | 2x1 ... $27,500 |
Trophy fees:
Brown Bear ... $13,000
Black Bear … $3,000
Wolf … $0
Wolverine … $1,000
A 50% non-refundable deposit will reserve your hunt.

---
Guided Alaska Hunting
Jim River Guide Service
Willie Dvorak, Owner and Master Guide
605-887-3561
wdvorak@nvc.net