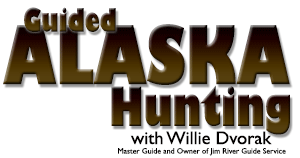 Alaska Black Bear Hunting
Trophy black bear hunts throughout the United States and Canada have been popular for many years. So much so that there are many outfitters conducting hunts in cookie-cutter fashion. They hunt from lodges. They hunt the road system to keep their costs down and hunt the same stand locations year after year. They typically have you hunting over bait and expect you to shoot the first black bear that comes in. Because of this, a lot of small bears are being taken with these types of outfits. Those hunts are an economical way of taking a run of the mill black bear provided the bears come into the bait while you are there. I am in the business of hunting for HUGE bears.
My black bear hunts have gotten a lot of press lately due to the SIZE of the bears we are taking and because on my hunts you can take up to 3 black bears per person! The nice part about this is that you can take the first good bear you see and then focus on finding an even bigger bear. Expect to see a lot of bears.It is not uncommon to see several bears every day. I have seen as many as 20 in a day. When we find a bear that you want, we will put our stalk on him. If we score, great. If we don't, we'll try again on another bear. There are a lot of bears in my area. This is the perfect kind of a hunt to bring your son/wife/buddies for a great outdoor remote Alaska hunt. A better hunt for trophy black bear does not exist.
This is not a lodge hunt where you sit over bait and wait for the bears to come in. This hunt is conducted in remote areas of Alaska. I hunt out of a tent camp that is set up where I can give you the best chance to take a big bear. Having the flexibility of putting you in different areas is a big advantage to being tied down to a lodge location. This is a spot and stalk hunt where you will get up close and personal with giant black bears. These bears are eating salmon and other fish near the coast just like the huge brown bears so they are taking in a lot of protein and a lot of calories. They are also typically feeding on blueberries which are plentiful and full of calories. These black bears get BIG. And spot and stalk hunting is the most exciting way of hunting them. You can hunt them with archery equipment, pistol, or rifle. This is the kind of hunt you want to go on if your goal is to kill a HUGE black bear.
You can upgrade your hunt to include brown bear if the Alaska State regulations allow it during the dates you are here.
The price for a guided black bear hunt is $9,000. If you would rather do a do-it-yourself drop off hunt, the cost is $5,000.
Unless other arrangements are made, I will be your guide. In a perfect world, an employee would care about the business as much as the owner. Unfortunately, we don't live in a perfect world. I do all of my own guiding unless other arrangements are made. It is comforting for you to know that the guy who is cashing your check (me) is the same guy who will accompany you in the field (me). I put my reputation on the line every time I cash a check.

When researching a hunt, you should ask to speak with ALL of the clients who hunted the same time you are considering hunting the previous year. It is foolish to consider booking a hunt with an outfitter before you speak with hunters who have hunted the same time and place during the previous season. It is important to know ahead of time what you are getting for your money. I am proud of the attention I give each client before, during, and after the hunt. Most importantly, DON'T CONSIDER BOOKING A HUNT WITH ANYONE THAT IS NOT WILLING TO GIVE YOU PHONE NUMBERS AND/OR EMAIL ADDRESSES OF ALL OF THEIR CLIENTS FROM THE PREVIOUS YEAR.
A 50% non-refundable deposit will reserve your hunt.
Email me or call me at 605-887-3561 to discuss a bear hunt with Guided Alaska Hunting. If I don't answer, I am probably hunting. Leave me a message and I will return your call ASAP.
| | | |
| --- | --- | --- |
| | | |
| | | 7 foot bear taken on a combo hunt |
| | | |
| | | |
| | | Salmon in the mouth of a feeder stream are easy picking for bears. |

---
Guided Alaska Hunting
Jim River Guide Service
Willie Dvorak, Owner and Master Guide
605-887-3561
wdvorak@nvc.net