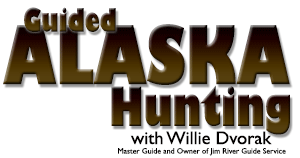 Alaska Combo Hunts
Alaska guided combo hunts are the most economical way of hunting brown bear, moose, black bear, wolf, and wolverine. For one price, you can hunt all of the species and have no trophy fees apply. This is very appealing when BOOKING a hunt. However, I am not convinced it yields the most satisfied customers. Think the decision to book a combo hunt over very carefully.
I see too many hunters book combo hunts with my competitors, take one great trophy, and leave disappointed. This is not fair to the animal. When that hunter puts that trophy on the wall, it will be a reminder of a disappointing hunt for the rest of his life. In too many cases, the hunter PAYS for a combo hunt (because it seems thrifty to book a combo hunt because as long as you're there, you just as well get another animal or two for the wall) but GETS a very expensive one species hunt. While brown/grizzly bears, black bears, moose and caribou can all be found on the same mountain or in the same drainage, that area might not be the premier area for any of those species.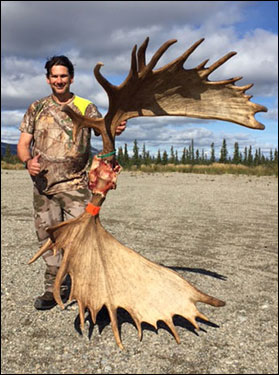 I offer a better way. Book what I call an "either/or" hunt. With this package, I offer a one species hunt for one price and then we go hunting, focused on one species but willing to take another. This improves your chances of being successful while not costing you so much money upfront. In this case, when you get the chance to take ONE great trophy, you go home pumped. If you get a chance at taking the second or third or forth animal, you are even happier. You can always come back next year to go after the other species.
From a hunting standpoint, either/or hunts offer the hunter the best chance for success. Each day starts with us going out hunting, hunting for any legal animal. Hunters who book moose hunts and then come across a brown bear while hunting miss an excellent opportunity to bag a great trophy animal. With this hunt package, you can take advantage of whatever comes our way. This can all be done with no trophy fees. The extra cost, or "trophy fee" costs are added only AFTER you have taken the first animal. This allows you to get a great one species hunt at a reasonable price and possibly upgrade to a combo hunt as we go. Almost all of my clients that contact me about a "combo hunt" prefer this package. Have I mentioned that I have a feverishly loyal customer base?
I may decide that we should move camp during the hunt in order to better position you for a particular species if you have already filled some of the other tags. I will give you my best opinion and will utilize all of my resources to determine if there is an advantage to moving and, if so, where to move to. As your guide, I want you to be successful as much as you want to be successful. You should come prepared to have a great time.
You should understand that with combo hunts, we take advantage of game movements and chance. Hunting this way has been done in Africa for generations. The chance of filling all of your tags is slim. The chance of getting 2-3 of these animals is excellent. It is my opinion that if you are considering a moose hunt or a bear hunt, it is well worth the extra money to upgrade the hunt to a combo hunt. Contact me and we can discuss the details at 605-887-3561 or email me. I'll return your message as quickly as I can.
Unless other arrangements are made, I will be your guide. In a perfect world, an employee would care about the business as much as the owner. Unfortunately, we don't live in a perfect world. I do all of my own guiding unless other arrangements are made. It is comforting for you to know that the guy who is cashing your check (me) is the same guy who will accompany you in the field (me). I put my reputation on the line every time I cash a check.

When researching a hunt, you should ask to speak with ALL of the clients who hunted the same time you are considering hunting the previous year. It is foolish to consider booking a hunt with an outfitter before you speak with hunters who have hunted the same time and place during the previous season. It is important to know ahead of time what you are getting for your money. I am proud of the attention I give each client before, during, and after the hunt. Most importantly, DON'T CONSIDER BOOKING A HUNT WITH ANYONE THAT IS NOT WILLING TO GIVE YOU PHONE NUMBERS AND/OR EMAIL ADDRESSES OF ALL OF THEIR CLIENTS FROM THE PREVIOUS YEAR.
Guided Alaska Hunting Either/Or Hunt: $26,500
Trophy fees only apply after the first animal is taken.
Guided Alaska Hunting Combo Hunt Package: $38,500
(No trophy fees required for moose, brown bear, black bear, wolf, wolverine)
A 50% non-refundable deposit will reserve your hunt.

7 foot bear taken on a combo hunt
---
Guided Alaska Hunting
Jim River Guide Service
Willie Dvorak, Owner and Master Guide
605-887-3561
wdvorak@nvc.net