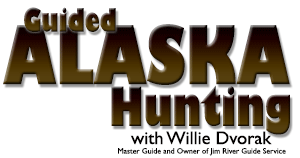 Alaska Brown Bear Hunting
Guided Alaska brown bear hunting is awesome. The Alaskan Brown Bear is the most coveted trophy on the North American continent. Sportsmen from around the world come to Alaska to hunt the biggest and most powerful of all bears, the Alaskan Brown bear. When you see these bears walk across the Alaskan tundra you cannot help but be in awe. Just seeing them will make the hair on the back of your neck stand up. Hunting them provides great excitement and a trip you will never forget.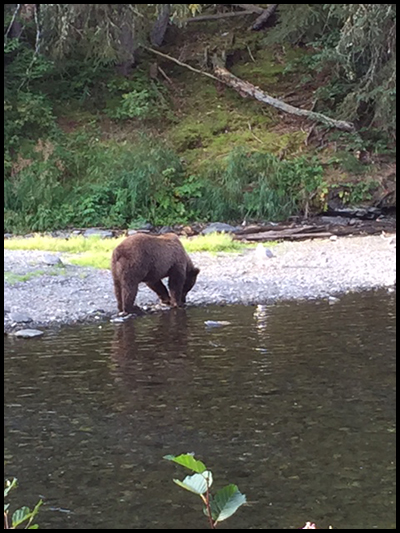 The brown bear season starts in August. I conduct hunts through the end of September in southwestern Alaska. I specialize in hunting the big brown bears. These bears are big, powerful and must be respected. My hunting area boasts a high brown bear population density. If you have ever wanted to take a brown bear, come hunting with me.
I hunt out of spike camps. This puts us close to where the action is. We will be camped where preseason scouting has indicated bear activity and where I believe we can hunt effectively. We will do all of our hunting on these hunts in hiking boots and do a great amount of glassing hillsides, mountains, and drainages.
Unless other arrangements are made, I will be your guide. In a perfect world, an employee would care about the business as much as the owner. Unfortunately, we don't live in a perfect world. I do all of my own guiding unless other arrangements are made. It is comforting for you to know that the guy who is cashing your check (me) is the same guy who will accompany you in the field (me). I put my reputation on the line every time I cash a check.

When researching a hunt, you should ask to speak with ALL of the clients who hunted the same time you are considering hunting the previous year. It is foolish to consider booking a hunt with an outfitter before you speak with hunters who have hunted the same time and place during the previous season. It is important to know ahead of time what you are getting for your money. I am proud of the attention I give each client before, during, and after the hunt. Most importantly, DON'T CONSIDER BOOKING A HUNT WITH ANYONE THAT IS NOT WILLING TO GIVE YOU PHONE NUMBERS AND/OR EMAIL ADDRESSES OF ALL OF THEIR CLIENTS FROM THE PREVIOUS YEAR.
The state regulations require salvaging the head and hide only on brown bears. I encourage hunters to take home the meat of brown bears in the "ethics" mind set. I am picking up the tab to ship the meat back to Anchorage because I like to see hunters make some use out of the meat. It is not required, but I encourage it.
Other species can be added to your hunt on a trophy fee basis. These options are available only if the season is open for the species according to the Alaska State Regulations. The brown bear package and trophy fee rates are as follows:
| | |
| --- | --- |
| Brown Bear Hunt | 1x1 ... $26,500 |
| | 2x1 ... $25,500 |
Trophy fees:
Moose … $13,000
Second Brown Bear ... $13,000
Black Bear … $3,000
Wolf … $0
Wolverine … $1,000
A 50% non-refundable deposit will reserve your hunt.
Any legal weapon in Alaska is permitted on the hunt. The recommended minimum caliber is .300 Win Mag with a .375 a better choice. I would much rather see you arrive in camp with a .300 Mag that you can shoot well than a larger caliber that you are unfamiliar with.
I am in the call making business and use Jim River Game Calls exclusively for this purpose. I have great results with them and my clients/customers have great results using them on their home hunting turf as well. They really work for those "tough to call in animals". I've personally called in bears, red fox, bobcats, coyotes, wolves, lynx, deer, and crows for myself and for my clients using these calls! Many of my clients and customers have seen the same great results with these calls on everything from deer to bobcats. If you would like to try any or all of these calls, contact me by e-mail or phone or go to www.jimrivergamecalls.com and purchase them online using PayPal. I will get them sent to you right away so you can see for yourself.
Email me or call me at 605-887-3561 to discuss a bear hunt with Guided Alaska Hunting. If I don't answer, I am probably hunting. Leave me a message and I will return your call ASAP.

Victor from Missouri

Mark is booked for 2020 and 2021 already

Monster brown bear

Bob from Washington

Dave makes it 100% on brown bears for 2013.

Shaun's great bear. Second day of hunting.

Typical stream loaded with fish in one of my brown bear and
black bear hunting areas.

Awesome brown bear country. We actually shot a big brown bear on the
finger ridge to the left of the stream on the first day of the hunt.
This stream gets plenty of fish and the bears round out their diet by
feeding on millions of blueberries above the stream. The hunting tactic
is to find the bears feeding on the fish or the berries and then
sneaking in for a good shot. It is very exciting. This hunting camp is
about 260 miles from the nearest road!

---
Guided Alaska Hunting
Jim River Guide Service
Willie Dvorak, Owner and Master Guide
605-887-3561
wdvorak@nvc.net