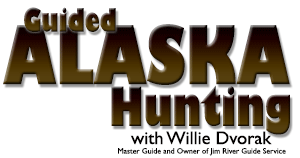 Alaska Caribou Hunting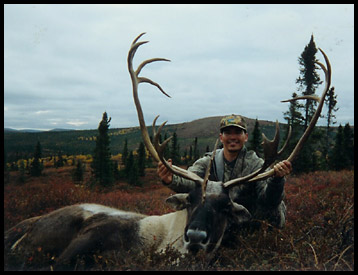 FOR ALASKA RESIDENTS ONLY: Guided caribou hunting in Alaska is a great way to experience the Alaskan outdoors and hunt one of the most amazing animals on the tundra. Caribou hunting in Alaska is one of the most economical ways of hunting Alaska. Caribou hunts also have the highest success rates. Seeing bands of caribou travel over the hill towards you makes you appreciate life in the Alaskan wilderness. Caribou have the biggest antlers in proportion to their body weight of any other animal. The guide will let you know the trophy quality of the bulls and you and him can discuss whether or not you should take him. Don't hesitate too long though because once you get behind a caribou, you probably won't get any closer. They cover the tundra at an unbelievable pace. I recommend a minimum caliber of .270 Win for caribou. Occasionally, long shots are needed to take these trophies. Practice close shots but also practice shots out to 200-300 yards.
Caribou season starts the first of August. I hunt them through mid-October. I will fly you into an excellent caribou area the day before your actual hunting starts, and you'll depart the day after your hunt is scheduled to end. If you tag out early, it is usually possible to get you back to town early. Email me or call me at 605-887-3561 to visit about Alaska caribou hunting. If I don't answer, I am probably hunting. Leave a message and I will return it ASAP.
Unless other arrangements are made, I will be your guide. In a perfect world, an employee would care about the business as much as the owner. Unfortunately, we don't live in a perfect world. I do all of my own guiding unless other arrangements are made. It is comforting for you to know that the guy who is cashing your check (me) is the same guy who will accompany you in the field (me). I put my reputation on the line every time I cash a check.

When researching a hunt, you should ask to speak with ALL of the clients who hunted the same time you are considering hunting the previous year. It is foolish to consider booking a hunt with an outfitter before you speak with hunters who have hunted the same time and place during the previous season. It is important to know ahead of time what you are getting for your money. I am proud of the attention I give each client before, during, and after the hunt. Most importantly, DON'T CONSIDER BOOKING A HUNT WITH ANYONE THAT IS NOT WILLING TO GIVE YOU PHONE NUMBERS AND/OR EMAIL ADDRESSES OF ALL OF THEIR CLIENTS FROM THE PREVIOUS YEAR.
Contact me for pricing of caribou hunts.

---
Guided Alaska Hunting
Jim River Guide Service
Willie Dvorak, Owner and Master Guide
605-887-3561
wdvorak@nvc.net